The Manfreds - New 2013 Tour
'Five Faces Tour'
The Manfreds, with original 'front man' Paul Jones, will be performing many of the tracks from the highly acclaimed album 'The Five Faces Of Manfred Mann' , which is to be re-released as part of their 50th anniversary celebrations, along with a mix of their biggest hits and the jazz and blues songs for which they are famous.
Paul Jones, with his award winning harmonica sound, will be joined by Mike Hugg on keyboards, Tom McGuinness on lead guitar, Rob Townsend on drums, Marcus Cliffe on bass guitar and Simon Currie on saxophone/ flute- all excellent musicians who will provide a full evening's entertainment with a few 'surprise' renditions of their work.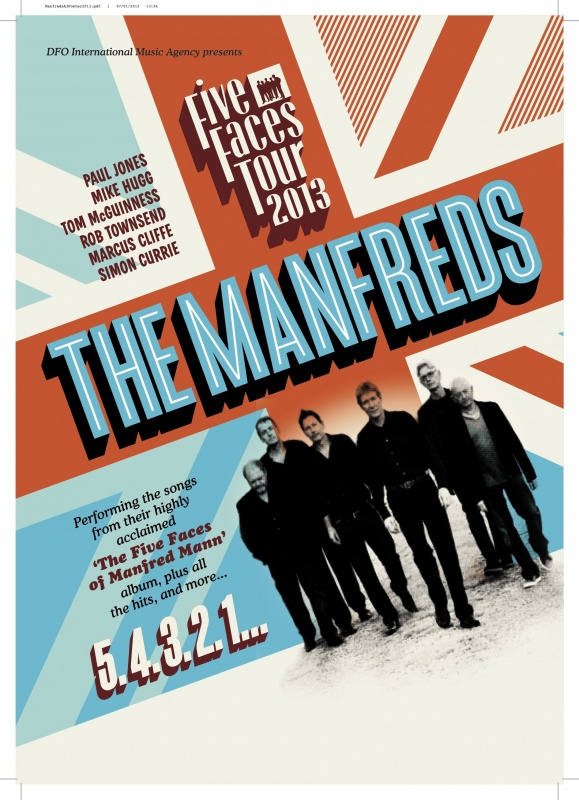 For over thirty years, Derek Franks Organisation has toured and produced some of the UK 's most popular and successful theatre shows. From pop to rock to classics such as ELO 11, Mickey Rooney, Al Martino, Buddy Greco, to name just a few, plus the artists who have been solely represented by DFO over the years….The Manfreds, Gerry and The Pacemakers, Gilbert O'Sullivan, Tony Christie, Vince Hill, Alan Price and many more, and not forgetting the very popular sixties production shows which have become a trade mark of the Company.
Derek Franks Organisation was established in 1978 by Derek Franks and his partner Debra. It was the perfect partnership due, partly, to Derek's experience as an entertainer from a very early age and Debra's involvement in the other side of the business, her parent's night club. However, success was mainly due to their passion for the business and pride in the way it has evolved over the years.
Sadly, Derek Franks passed away, at a much too early age, in May 2008 and, just as Derek would have wished, the business was left to Debra to continue. This website is dedicated to the memory of Derek Franks as a celebration of the past and, as he would have wished, a lasting legacy for the future.